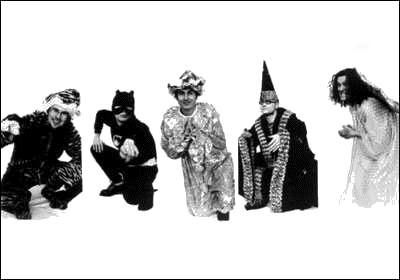 Brandgul is a pop/rock band with members Lars Olsson (vocals), Per Lundberg (electric guitar), Stefan Nyström (drums), Magnus Sjöberg (acoustic guitar), Mats Sandin (bass guitar) and Biggan (keyboard). All the members of the band come from the northern parts of Sweden, which can be detected through the vocals and the swedish lyrics.

The band was formed in Gothenburg in the end of 1994 as a leisure movement, as a method of finding the right image and having fun with musical instruments. After a while they found some nice little songs humming around in the place they were playing with their instruments, and they started to sing and play them.

They then decided that the songs deserved to be recorded, so a demo cassette was made. This encouraged them to take a number of local gigs, and in August 1995 the Hultsfred Festival wanted them to play the nice little songs at their field. And so they did.

In the end of 1995, Beat Butchers had also heard and appreciated the nice little songs and wanted them to be on a record. So the debut album "Champagne & Trumpeter" was recorded and released in April 1996.

Summer 1996 saw a video made for the song "Kvicksilversand" from the album, which also was the opening track on the latest compilation album Absolut 50 Spänn. Brandgul let some festivals see and hear their nice little songs as well during the summer, and the autumn was booked for gigs on a musical tour of Sweden.

Where the chance lacks of faith
we meet for the first time
Among all these dreams
through open city
sunburnt supersmiling
we spread our ecstasy of happiness:
Champagne and trumpets
Detonation-Lovely

CD EP & Singles

Bland Alla Dessa Drömmar, Beat Butchers 1996, ORCDS 40, Time: 11.34
1. Bland Alla Dessa Drömmar
2. Jag Vill! (remix)
3. Min Enda Vän (remix)

All songs taken from the album Champagne & Trumpeter. Music by Brandgul. Lyrics by Lars Olsson. Recorded and produced by Johan Forsman and Brandgul at Bauhaus Studio 1996. Mastered by Tomas at Digitalfabriken. Design by Jesper Klarin and Johan Avedal. All photos by Johan Avedal.
Album, CD & Mini LPs


Champagne & Trumpeter, Beat Butchers 1996, ORCD 28, Time: 54.02
1. Födelsedagskalas
2. En Stund
3. Mötas Någongång
4. Bland Alla Dessa Drömmar
5. Kvicksilversand
6. En Gång Till
7. Min Enda Vän
8. Jag Vill!
9. Ludd
10. I Vårt Hav

All music by Brandgul and all lyrics by Lars Olsson. Recorded, produced and mixed by Johan Forsman and Brandgul at Bauhaus Studio '96 assisted by Hasse and Palle. Mastered by Tomas at Digitalfabriken. Additional Musicians: Max Flövik (contrabass), Hans Asteberg (sacred vocals), Johan Forsman (synthesizers, sacred vocals). Form: JF.F/huber. Photo: JF.F, group picture: Kalle Åkesson.
Compilations
Beat Butchers 15 År - 12 Covers (ORCD 36, CD 1999, Beat Butchers) Låt: "Free" (The Ornitologs)
Definitivt 50 Spänn #5, RABB9608 Rabb Records CD, 1996 (Kvicksilversand)
Beat Butchers 1996 Promo, Beat Butchers OR-PROMOCD 1 CD, 1996. (Mötas någon gång)
If you want to contact the band directly, write to:
Beat Butchers
c/o Näslund
S:t Göransgatan 152 4tr
112 51 STOCKHOLM
SWEDEN
Please include a self-addressed envelope with enough stamps (or international coupons) if you'd like a reply.